The Best-Sounding TWS
Pros: GREAT bass
Quality Mids
Quality Highs
Beautiful shell
Really nice case
Good connection and connection options
Surprisingly capable at this price and without wires
The best sounding TWS IEM on the market right now
Soundstage
Cons: Weight
Sibilance on certain songs
Cost, but only because most TWS IEMs cost less, not because it's not worth the price
Little bit of comfort
Recessed mids
Overview:
True Wireless Stereo (TWS) In-Ear-Monitors (IEMs) Are Really Cool (ARC.) Yeah, that last one's not actually an acronym (or is it now since I just created it?) They have the portability of IEMs with the convenience of not needing a cable, or a dedicated DAP or power source beyond what is included already in the earbuds (though you can still use a DAP that has Bluetooth if you want. They'll run off your phone, but all the pieces needed besides a music source is in the shell in your ear. I picked up the Noble FoKus Mystique for review from https://shop.musicteck.com/ at a discounted price in exchange for a review. As usual, this in no way changes the way I review anything – it just helps me be slightly less broke from audio purchases (Ha, right).
Noble is a high-end IEM maker with IEMs that cost upwards of $4,000 and with critical acclaim and reviews to back up their acumen. The Mystique is their newest attempt at taking that expertise and turning it into the TWS IEM format for only $360. The Mystique is the upgrade from the FoKus Pro and has improved the microphone placement for better call quality along with a few other minor things. The Mystique has a single dynamic driver for the bass (and it WORKS) and two balanced armature drivers for the mids and highs. The Mystique also has a microphone for phone calls, the ability to EQ, an ambient mode that allows sound in, and the ability to turn that off to block sound from coming in (not ANC.) Ambient mode automatically starts on, which is admittedly extremely annoying and I haven't found a way to have the IEMs start with ambient mode off, so I have to go into the app and turn it off every time – who wears earbuds so they can hear the world around them? It also supports Bluetooth 5.2, SBC, ACC, APTX, and APTX adaptive codecs so it should work with just about any modern phone or computer (I've had the connection cut out once for a second on the left ear, so that's something to watch). It is not sweatproof (though should be fine with a little sweat), waterproof, rainproof, etc.
So, what is the purpose of these relatively expensive TWS IEMs? They sound fantastic and they are far cheaper and easier to use than a lot of high-end IEMs. Also, there's no cable if you want to do chores while listening to music, but without an annoying cable getting in the way. Also, if you're a business person who enjoys listening to good quality music, but you're constantly making or taking phone calls, the Mystique are designed for you. Or, if you're just weight lifting and not doing intense cardio or martial arts, you could probably use these too (I tried these with a heavy-bag workout and they didn't stay in all that well, too much impact and movement.) If that sounds like something you'd like, because they are some of the best-sounding TWS IEMs ever, you can buy them here: Noble FoKus Mystique. Now, ON TO THE REVIEW!
Build Quality / Comfort:
The build quality of the Mystique is spot on. Noble says they're 3D printed, but they clearly added a clear-coat finish to them afterward to make the whole IEM feel like one piece, even with the shiny blue faceplate. The faceplate itself looks great and I doubt any two are the same – they come in a nice X-men approved Mystique-blue/white sparkly color and it's the best I've ever seen a TWS IEM look. Now, the downside of that solid clear coat and the faceplate is weight. The Mystique are some of the heaviest TWS IEMs I've ever encountered, which can make them taxing over long use and also it doesn't help them stay in your ears either. There's also a pretty large battery in there to power the Mystique for 7.5 hours at this sound quality in addition to the wiring and chips needed to power the TWS IEMs. There's also a touch sensor built into the faceplate, allowing you to control the music player just by tapping on the IEM (the right side stops or plays music, the left side skips or goes back on songs.)
That's a LOT of stuff to stick into IEMS that are designed for sound/looks, so the end result is a large/heavy TWS IEM that will stick out of your ear quite far (20%-ish larger than the DUNU SA6, 20%-ish smaller than the Monarch Mk2 and about the same thickness as the Aroma Thunder.) There is a sort of a protruding shelf on the opposite end of the IEM from the nozzle that sits inside your ear – if you put them in right, they'll stay in there, but put them in wrong and they'll stick out (it also puts some pressure on your ear, which may be uncomfortable for some people.) The Mystique still stay in my ear with the stock tips quite easily most of the time. I still find myself reaching up to push them in further once in a while or so, which then stops the music because I accidentally tapped the touch-sensitive shell (this is a common problem with TWS IEMs that use touch-sensitive controls – I prefer to control my TWS IEMs from my phone for this reason.)
So, they're not the most comfortable, or smallest, or lightest TWS IEMs in the world (MiFo), but they make up for it a lot with sound quality and build quality. Even the matte blue and black charging case is really nice. It has functioning battery/charging lights on the front, a really nice double hinge, good magnets to grab the IEM for charge, and 4x extra charges for the IEMs. It's a good experience. Normally by now I'd be ranting about the cable, but the only cable you get with TWS IEMs is a USB C to A cable – which does what it's supposed to. The ear tip selection is solid, and that's about all you need. Oh, and there's a carrying pouch…that lets you…carry the earbuds inside of the case…inside of the pouch – so…there's that if overcomplicating life is your thing. You can download the app to install the new firmware, turn on/off ambient mode, and EQ the earbuds to your liking (Or take the built-in hearing test to auto-EQ for you.) OK, but how do they SOUND?
Sound / Source / Comparisons:
There are no frequency response graphs of this TWS IEM yet (that I've found.) It's basically brand new and I don't have a test rig (sorry, feel free to send me yours haha.) I'll try and explain what I hear so you can get an idea though. The Mystique have elevated bass/sub-bass, probably in the 65-70 dB range, tapering off towards the mids. Somewhere around Monarch/MEST Mk2 tuning on the lows. The mids are nowhere near as forward as on the Monarch or Thunder, but not as far back as they are on the Dunu, maybe more comparable to the MEST Mk2. I assume the tuning on these put the mids near the Monarch's 60 dB range even though they don't have the forwardness the MMk2 does. The highs seem pretty forward, not quite as forward as the Mezzo with the treble switch on, but you can hear high-hats pretty easily, so once again around the Monarch range on the highs – just hazarding a guess (I'll update this if I can get a freq graph.)
I don't need to use my Shanling M3U on these because they're True Wireless. So that's weird. I am powering these off of…well…themselves. But I have them paired to my Pixel 7 through aptX, which works really well and which some people prefer over LDAC. I don't have an iPhone to try them on, sorry Apple fans, but they do have AAC, so you should have no problems. I'm running them at about 80% volume on my phone with the Equalizer set to stock – you can EQ these if you want (these are tuned pretty nicely out of the box and my personal EQ tuning is solid.)
I'll just add a quick note about how to do the personalized tuning from the app since I've already gotten questions about it. When you add your personalized tuning, you just need to find a quiet space and listen for the tones through the earbuds. Then, click how many of the tones you heard, or listen again, or nothing heard. It should get louder if you select nothing heard, which will then increase the portion of the EQ. I've included a screenshot of mine (yeah, I have more difficulty hearing higher notes 'cause reasons.)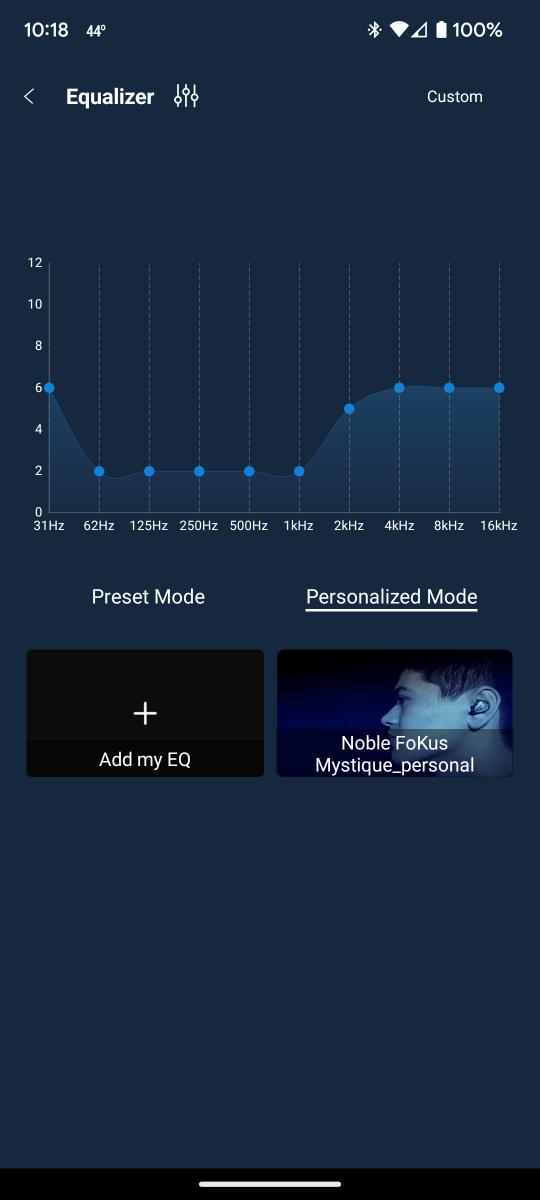 As usual, I don't like breaking down headphones solely by frequency range since every song has bass, mids, and highs (and I can't tell the difference between vocals at 1900 Hz and 2100 Hz.) So, I will start with bass-heavy songs, then move to mids-focused and lastly highs-focused songs, then break down each song by how all the pieces are presented. You can find my Tidal test tracks playlist in my signature if you want to compare them to your headphones.
Starting with bass-test songs, I'll be using David Guetta's "I'm Good (Blue)" The intro bass drums kick hard with good impact with some of the extra reverb I get from the Thunder. The Sub-bass is impressive for a TWS, though it doesn't quite stop your heart like something like the Thunder or MEST Mk2 can. Still, these are $350, not $1,000+. That's impressive. The vocals feel further back than I prefer on this song, both the Monarch and Thunder do a better job portraying soundstage, instrument separation, and more forward mids (once again, $$$.) I literally cannot think of a single TWS that can compete with the Mystique, especially in the bass. The Sennheiser/Grell TWS IEMs do mids more forward/sound really good (not sure if it's better), but they can't touch the bass response on the Mystique and I end up comparing them to kilobuck IEMs. The Sidh's "Alba" also sounds sick on these with some insane bass and bagpipes/flutes. The bass on these is crazy powerful.
For my mids test-song I'll be using Waking Ashland's "I Am For You." This song has a good balance of guitars, pianos, and vocals. The high-hats and snare can be clearly heard, showing the higher balance the highs have on the stock tuning. The guitars sound good, with slower decay and the vocals feel a bit more recessed than I prefer – it's a tad muddy throughout on this song compared to much more expensive IEMs, but really good compared to just about anything else in this price range. The soundstage impressions are good, especially for TWS buds – it's a very open-sounding soundstage with decent instrument separation. They destroy the sound on my Mifo buds, but those are 1/3rd the price and 1/3rd the weight. On the stock tuning, I would say that I prefer the mids tuning on the Sennheiser/Nura (cheating because their whole thing is EQ), but just barely. With my personalized EQ, I find the Mystique on par with the Senns, but the vocals are still more recessed than I prefer – maybe that's something you like, it certainly gives it the impression of a large soundstage.
Using Panic! At The Disco's "High Hopes" to test Sibilance, we get quite a lot of sibilance throughout the song – it's pretty painful for me. This ties into the next song as well ("The Alien"), with the more highlighted treble. A lot of times the sharp highs/sibilance is tied with the better treble presentation. So, while I would prefer not to hear sharp noises in my ears throughout a song like this, other people will appreciate the highlighted highs. The rest of the song comes across really well, with the snare coming through easily and the vocals sound good. The horns sound as good as ever and even have some of the low horns during the intro that are hard to find on some IEMs. I just can't stand the sharp sibilance on these with this song, which is why I test with it.
My High's test song today is Dream Theater's "The Alien." You can clearly hear the background hi-hats and cymbals even over all of the rest of the drums and bass coming through on this song – it's impressive, and something that my JM Audio XTC-Open full-size beryllium headphones don't display this accurately. The only thing that immediately comes to mind that highlights the highs this well is the Mezzo ($1900) with the Treble switch on, or just about any other IEM that I find to be sibilant haha. The guitars come in clearly, but not quite as quickly or as forward as I would like to hear on this song. It still sounds better than the SA6 I have on my desk ($550). The solos sound clean and well-represented – they give me that Steve Vai vibe. Unsurprisingly, the drums come in clearly with impact without drowning out the rest of the music (there's that bass again.)
Conclusion:
The Mystique are at the top of the TWS sound pile (and one of the best looking to boot.) They easily have the best bass I've heard on any TWS buds and they certainly have the pronounced highs that can highlight the hi-hats and snares for the people who are looking for that. I just wish the mids were more forward and there wasn't any sibilance above 3k Hz. I also wish they were a tad lighter, smaller, and stayed in the ear well enough to run with as that's one of the purposes of TWS. Still, these are versatile, work well, connect easily, sound great for a TWS (heck for $350 IEMs in general), and will make a good HiFi addition to your collection. If you want the current best sound in a wireless earbud format, you have to get the Mystique.
| | |
| --- | --- |
| Headphone Scoring: | |
| Build Quality | 1​ |
| Design | 1​ |
| Cable | 1​ |
| Case | 1​ |
| Ear Pads / Tips | 1​ |
| Comfort | 0.8​ |
| Lows | 1​ |
| Mids | 0.7​ |
| Highs | 0.8​ |
| Price | 0.8​ |
| Total: | 9.1 |