Great Warm Sound – Awful Case/Software
Pros: Great, warm sound with AMP 8
Light weight
Good screen
Usable buttons
Balanced output
Swappable amps
Cons: Terrible software
Terrible stock case
Not as good as the M6U
Overview:
Up for review today is the iBasso DX240 DAP (https://amzn.to/3ymWk21) with the AMP 8 installed (https://amzn.to/3Yv8ErF.) I picked this one in trade, so I have no impressions on the stock amp – and the AMP8 is widely considered the best amp available with this. The DX240 comes with the Qualcomm 660, which is a bit behind the more modern 665 you'll see on newer players and it also comes with the older Android 9 + the proprietary Mango OS. Supposedly, you can switch between the two. It also has 4GB of RAM with 64GB of onboard storage. The DX240 comes with the ES9038PRO "Flagship DAC," which is only kind of a flagship depending on who you ask, it seems pretty capable to me. It also has swappable AMP Cards obviously, with a 5" screen, MQA 16x, 5G Wi-Fi, Bluetooth 5.0, USB 3.1, an SD card slot with up to 2 TB, Quick Charge, PCM 32 Bit/768kHz native DSD512, and freaking Coaxial Outputs for some reason! That's a lot of goodness packed into one, though the most modern DAPs have upgrades across the board with Qualcomm 665 chips and android 12 , etc. now. Swappable amps is still something of a unique capability, and the one that makes this great – on with the review!
Build Quality / Design / Specs (18/20):
The DAP itself is of really good quality with a nice aluminum build quality and weight. The knob on it is nice a notchy when spinning with a good click when you press it. The only downside there is that it protrudes and that makes it easy to accidentally hit when you're putting it in your pocket. There are no indicator lights or anything else on the player. The stock amp has 2.5mm/4.4mm balanced and a 3.5mm unbalanced output while the amp 8 has just the 4.4mm and 3.5mm. The back just appears to be plastic, so that's disappointing when the M6U comes with an all-aluminum shell for the same price. The benefit here is light weight though, which is good for a portable DAP.
The DX240 also bypasses SRC system wide, which allows you to skip the android sample rates and get much better sound. The 4400mAh battery allows for 11 hours of playback, likely on the unbalanced load, so slightly behind the Shanling M6 Ultra (M6U.) It weights 205g, which is crazy light. The balanced port put outputs at 878mW@32ohms while the unbalanced puts out 281mW@32ohms. That's pretty great and can drive a lot of full-size headphones like the LCD-X on my desk. AMP 8 puts out even more power – 2000mA! I really have nothing to complain about here, the specs are really good.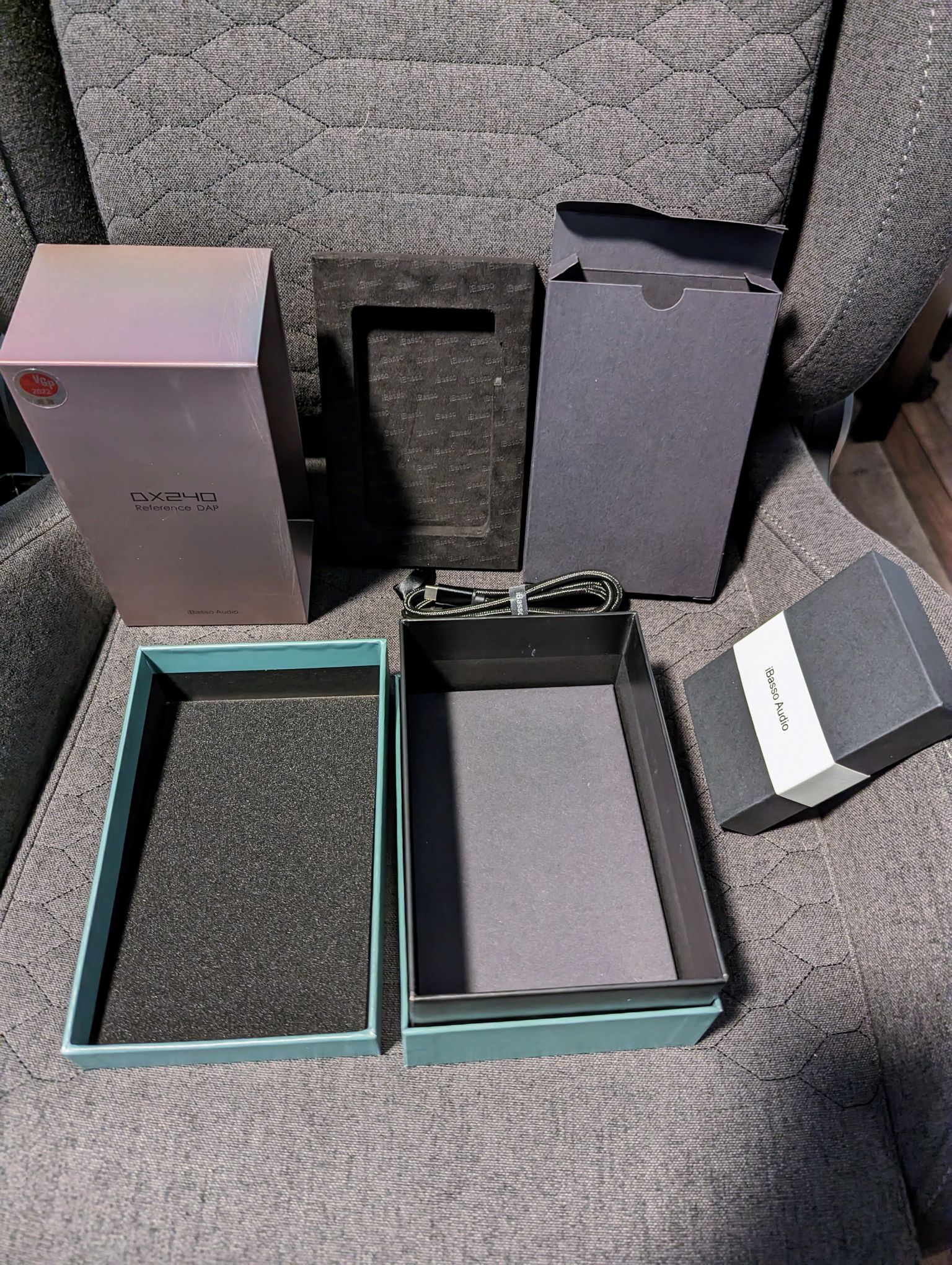 Accessories (15/20):
Let's start off with the good. The DX240 comes with a multitude of cables, charging cables, connection cables, etc. They're good quality and better than most DAPs comes with. Major win. And, it even comes with a case! Too bad that case is absolute crap. I don't say that lightly, it's one of those terrible clear TPU cases that you can get of Amazon for your phone for $4 (https://amzn.to/3T0aHD0 for example, though this looks nicer than the one that comes with it.) It picks up finger prints like it's going out of style, it doesn't hold its shape, and it feels SUPER cheap (see photos.) It makes the nice DX240 feel like a cheap POS. I honestly prefer Shanling not including a case and making you buy the $40 case over this case. Seriously, I'd rather pay $40 extra than touch the stock DX240 case – it's not something that should come with a $100 DAP, not even a $400 one. Just…don't include one, this is beneath you iBasso.
Software / Setup / Ease of Use (3/20):
Gross. Compared to the M6U's stock Android, with the Google Play Store, the APK back loader on the DX240 is terrible. And maybe it's possible to somehow link your streaming service through the stock player, but I couldn't figure it out. If you're using this with your own files, cool, it should be fine, but downloading Tidal was a PITA. I had to update it like 4 times, it kept saying I had trash on my system, and the APK back loader had Ads! ADs on a product you just spend almost $1k on! Nothing screams Made in China like freeware.
Overall, the Shanling is a much better experience. So is the SP3000 (no ads.) Once you get everything set up, it works fine, and will MQA just fine as well, but man, that was a frustrating 30 minutes to an hour. The built-in player works well, without any real issues, and Tidal works like Tidal once you get it installed. It's one of the worst setup experiences I've ever encountered though, and I hope the new ones fix that issue.
Performance / Sound (18/20):
The sound of the iBasso with AMP 8 is warm, bassy, and inviting. That said, it is definitely more bloated than the M6U. There's less resolution and more unwanted reverberation from the bass. There are some serious perks to this type of presentation. You don't get the sharpness that the SP3000 can present sometimes. And there's nothing painful about the music coming out of the DX240. Now, I haven't listened to the stock amp, but everything I've read implies that the AMP 8 is an overall improvement over the more detailed, and less warm sound that AMP 1 provides. I really like the laid-back performance of the DX240 with AMP 8. It doesn't seem to lose much detail and there is no real lessening of the mids or highs either. I actually preferred the sound of this with the Multiverse Mentor over the SP3000 on some songs. That's saying a lot for a 3x price difference. It does have a tad bit of muddiness in the bass though that could use some tightening up, and that's about it.
Comparisons / Price (15/20):
The fact that I think this competes with the $3,600 SP3000 means that it earns good comparison and price scores. The only downside is that the M6U can do the same thing without an extra $200+ amp that's sold separately. Also, the M6U doesn't have that bass bloat that the DX240 with AMP 8 has. The M6U and SP3000 also feel more premium and the stock DX240 case would make it lose points if I hadn't already taken points off for it previously (that case SUCKS, but at least it came with one.) I also hugely prefer the M6U's interface, though the SP3000's is almost as annoying as the DX240s. At least the SP3000 doesn't have ads on its APK downloaded – so tacky. So overall, I put the DX240 just slightly behind the M6U across the board.
Conclusion:
The DX240 is a really good-sounding DAP that just so happens to need to a $200+ amp to sound its best. The M6U is better sounding, but not as warm, with MUCH better build quality. I'd still take it over the 3x more expensive SP3000, but that's just my preference. Some people love the SP3000, and some people like the DX240 more than the M6U. Go with what you like. If you want a warmer, semi-decently priced DAP with Android, it's hard to be mad at the DX240 – just get a new case.
Wolfhawk's Rating: 69/100